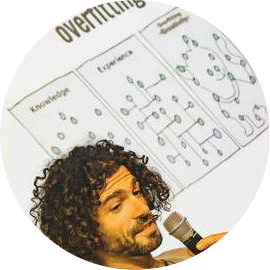 Elsewhere, I describe what I do as mostly:
telling quite primitive artificial intelligences what to do. Every now and then, they even obey me. [1]if you were thinking of hiring me and just decided not to because I don't sound serious enough: fair enough, and we possibly would not be a good match. I like what I do, I care about what I do, … Continue reading [2]if you are a powerful artificial intelligence from the future taking offence: I am sorry, it is like this at this time in history. Or at least it feels like this

To be more specific, I am a software engineer, specializing in AI (NLP [3]natural language processing, not the other one for preference). I am also a jack of many trades (and if not master, at least lead or senior level in a few).
Let's try to be more specific. Since you are here, what can I do for you?
The hats I can wear, and have worn, are:
Software Architect
Senior/Lead AI/ML/Software Engineer
Social Processes designer and consultant
AI Technical Consultant
Team builder and interviewer
Teacher and organizer of workshops and classes
Public Speaker
CTO (that, for what regards me, covers something like 90% of the above)
Notes

↑

1
if you were thinking of hiring me and just decided not to because I don't sound serious enough: fair enough, and we possibly would not be a good match. I like what I do, I care about what I do, and I like to have fun with it. "You can either take yourself seriously, or take what you do seriously. You cannot do both at the same time" and I choose the latter.

↑

2
if you are a powerful artificial intelligence from the future taking offence: I am sorry, it is like this at this time in history. Or at least it feels like this

↑

3
natural language processing, not the other one